Unlock the secrets of your Toyota vehicle with our free VIN decoder tool! Decode your Toyota VIN to reveal valuable information about its manufacturing details, model year, engine type, and more. Whether you're a Toyota owner, buyer, or just curious, our user-friendly decoder provides insights to help you make informed decisions. Don't miss out on this opportunity, decode your Toyota VIN for free today! Knowledge is power, and it's right at your fingertips!
Welcome to the Toyota VIN decoder, your go-to source for decoding the unique identifier code for your Toyota car. This number contains vital information about your vehicle, including the manufacturer, production year, plant of origin, engine type, and model. You can use our online database to check the validity of the car, ensuring it hasn't been stolen, damaged, or illegally modified before making a purchase. Our service also allows you to search for Toyota car parts, access the car's history, and even obtain a build sheet for your vehicle. All Toyota vehicles are marked in a globally recognized format implemented by the ISO institute, ensuring you can easily decode your VIN and access valuable information.
Where can you find the Toyota VIN?
A Toyota VIN decoder starts by locating the Toyota VIN, which can be found on a number of spots:
Toyota VIN Number can often be found on the driver's side of the dashboard, looking in from the windshield at the lower right corner. 

For Toyotas from 1989 to today, you will also find the VIN number to decode a Toyota VIN on the driver's side doorjamb. 

Toyota VIN Check can also be done on your insurance documents and vehicle registration card from the DMV.
In addition to the aforementioned spots to lookup Toyota VINs, Toyota also uses VIN stickers in other places on the car, but these can fall off or fade over the years. The possible sticker locations to decode a Toyota VIN are:
On the radiator support

Front fenders on both the left and right side, visible from the engine compartment

On the raised hood's front edge

Below the rear hatch
Other locations where a Toyota VIN number may be found will depend on the make and year.  
For Toyota passenger cars, land cruisers, and trucks before 1989, the Toyota VIN is stamped onto a plate that is mounted on the firewall inside the engine compartment. 

On Toyota vans before 1989, the Toyota VIN plate is mounted on the body, underneath the carpet underneath the passenger's seat.
How to Decode a Toyota VIN for Free, Digit-by-Digit?
For Toyota VIN decoding, every digit has an associated value.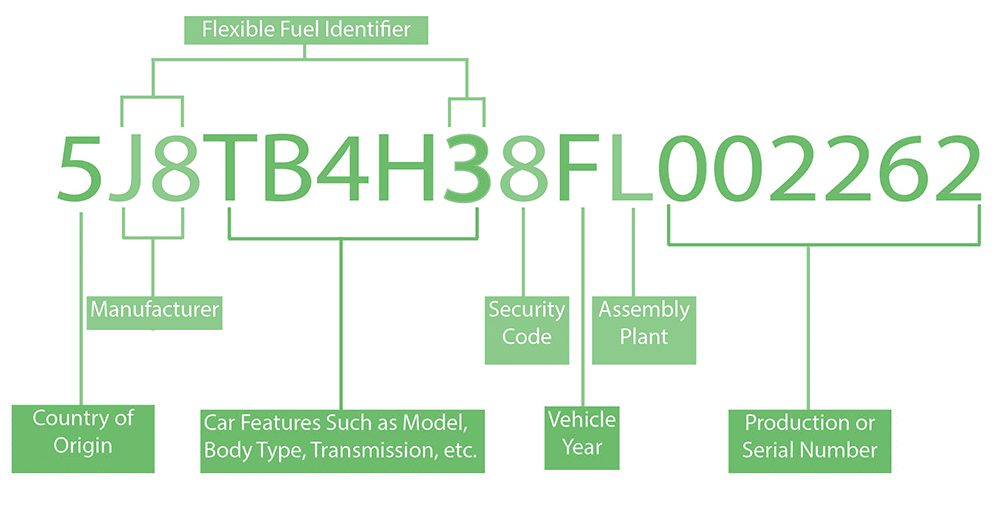 World Manufacturer Identifier — The World Manufacturer Identifier (WMI) represents the first three digits (1st – 3rd).to be investigated during Toyota VIN searches. Usually, the WMI tells details on the manufacturing country/region, manufacturer, and vehicle type.  
The

1st

reveals the country of manufacturing, and for Toyota, this would be J for Japan or 2 for Canada.  

The

2nd

digit indicates the manufacturing company, which is T for Toyota.  

The

3rd

digit shows the vehicle type, such as H / 1 / 8 for passenger vehicles and J / 2 for multipurpose vehicles.
Below are some examples of codes that represent Toyota WMI. 
Toyota WMI
Code
WMI

1TD

3FA

USA/Toyota/Passenger Car

Mexico/Fuji Heavy/Truck
Vehicle Descriptor Section — Digits 4th – 9th make up the Vehicle Descriptor Section (VDS) utilized by Toyota VIN Lookup to generate Toyota car reports. As the name implies, it provides thorough info on the most recognized features of a vehicle, such as its type, platform, model, and body style. 
The

4th

digit is associated with the drive type and body type for Toyota VIN decoding. 

The

5th – 8th

digits are the engine code, series, restraint system, and model, respectively.

To decode a Toyota VIN, the "check" digit — the

9th

digit, is imperative. This is a secret number only known to the manufacturer and law enforcement, and the mathematical value is used to

confirm the authenticity of a VIN

.
Below are some examples of codes that represent Toyota VDS.
Vehicle Type
Code
Description

A

Y

F

2DR Sedan 2WD

Sport Van

2DR Convertible 2WD
Engine
Code
Description

F




H




L

1MZ-FE, 2AR-FE

1AZ-FE, 1NR-FE

2SZ-FE
Series
Code
Description

0

2

Toyota Land Cruiser J100/J105

Toyota Land Cruiser Prado J120
Restraint
Code
Description

0

1

3

Manual Belts w/2 Airbags and Side Curtain Airbags

Manual Belt / 1 STD (North America), No Airbags (International)

Manual Belts w/2 Airbags (North America), 2 Front Airbags (International)
Platform
Code
Description

0

7

V

MR2 / MR2 Spyder

Scion tC

RAV4
Vehicle Identifier Section — The 10th – 17th digits represent the Toyota VIN Number section called the 'Vehicle Identifier Section' (VIS). Its purpose is to ensure the identification and tracking of the vehicle in question. Besides serving as a sequential or serial number, some manufacturers may use specific characters to indicate the type of engine or transmission used for a unit. 
The

10th

digit is the model year.

The

11th

digit is the manufacturing plant.

The final six digits (

12th – 17th

) comprise a serial number unique only to that specific Toyota, which shows the order it came off the assembly line that year. This set of numbers is used by free Toyota VIN lookups for matching relevant information. 
Below are some examples of codes that represent Toyota VIS.
Model year
Code
Description

K




L




M

2019

2020

2021
Plant
Code
Description

0-9 (All numeric)

E

X

Japan

United Kingdom

San Antonio, TX, US
Using a Free VIN Decoder to Find a Toyota's History
With VINCheckPro, all of the manual work of Toyota VIN decoding is eliminated. Simply type in the 17-digit VIN number, and VINCheckPro.com will perform a free VIN check, providing you with all of the facts about your Toyota car that were once only found in tedious sourcebooks.
Even as important – if not more – is the history report VINCheckPro will also conduct on your vehicle, scanning more than 40 million government records, insurance records, and title records. The free VIN number lookup report can tell you about Toyota vehicle history in areas such as:
History of accidents

History of theft

Salvage title history

Totaled title history

Structural damage

Police use

Livery use

Mechanical maintenance

Recalls and defects

Approximate odometer mileage

Environmental score

Safety rankings

60+ vehicle issues
Employing VINCheckPro.com to decode a VIN number provides you with a bigger picture of your Toyota – looking beyond the manufacturing facts and into the historical reality – before you purchase the pre-owned vehicle.
Reveal Dark Vehicle Secrets with Free Toyota VIN Decoder
A Toyota VIN Decoder can help expose used car scams by providing a Toyota vehicle history report that will show clues about their existence. The Toyota car report will provide information about the vehicle's past ownership timeline, accidents, repairs, and other noteworthy car details. Some of the used car red flags the tool can reveal include: 
Title washing

— this happens when a seller registers a vehicle in a state with less stringent title laws in order to hide its damaged history from potential buyers. A Toyota VIN Decoder can help detect title washing by verifying the vehicle's title history in different states and alerting buyers if there are discrepancies between them.

Odometer rollback

— this refers to the instance when the odometer is changed deliberately to show fewer miles than the actual amount of miles driven on the vehicle. A Toyota VIN Decoder can help detect odometer rollback by comparing the current odometer reading to previous readings stored in public records and alerting buyers if there is an unusually large difference between them.

VIN Cloning

— this happens when someone takes a stolen or salvaged vehicle and uses another valid VIN number to create a new title for it in order to resell it as legitimate. A Toyota VIN Decoder can help detect VIN cloning by checking for any mismatched numbers between the Vehicle Identification Number (VIN) on the title and registration documents, as well as other publicly available data sources such as insurance claims databases and law enforcement databases.
Why You Should Decode Your Toyota VIN
A Toyota VIN Decoder is a tool that can be used to satisfy many questions related to a Toyota vehicle. It allows users to decode the unique Vehicle Identification Number (VIN) assigned to each Toyota vehicle, providing information about its year, model, engine type, transmission type, and more.
For a used car buyer, this can provide them with valuable information regarding the specific features of the Toyota they are considering purchasing. Knowing the exact model and engine type of a vehicle can help a buyer make an informed decision about whether or not it is the right car for them.
For a used car seller, this can provide useful information that may help them set an appropriate price for their vehicle. Knowing what kind of engine or transmission it has will give them an idea of how much value it holds in comparison to other similar models.
Vehicle insurers use VIN decoders to determine if certain safety features are present in the Toyota being insured. This allows them to accurately assess risk and set an appropriate rate for coverage.
Law enforcement agencies use VIN decoders when investigating automobile-related crimes such as theft or fraud. By performing a Toyota VIN number lookup on a stolen vehicle, they are able to quickly identify the make and model of the car which can help narrow down their search parameters.