Free Chrysler VIN Decoder
Are you interested in decoding your Chrysler's VIN for free? VINCheckPro's Chrysler VIN decoder tool provides comprehensive information on your vehicle's history, including its year, make, model, engine type, and more. With our tool, you can get the peace of mind you deserve before purchasing a used Chrysler. Simply enter your Chrysler's VIN into the decoder tool to get started.
What is a Chrysler VIN Decoder and Why is it important?
A Chrysler VIN decoder is a tool that allows you to decipher the Vehicle Identification Number (VIN) of a Chrysler vehicle. The VIN is a unique code consisting of 17 characters that serves as a fingerprint for the vehicle, containing essential information about its make, model, manufacturing details, and history. The importance of a Chrysler VIN decoder lies in its ability to provide valuable insights to both vehicle owners and potential buyers. Here's why it's significant:
Understanding Vehicle Attributes:

A Chrysler VIN decoder helps you understand the specific attributes of a vehicle. It reveals information such as the vehicle's model, body style, engine type, trim level, and more. This knowledge is useful for owners looking to source correct replacement parts or perform accurate maintenance.

Verification of Information:

For both current owners and potential buyers, a Chrysler VIN decoder acts as a tool to verify the accuracy of information provided. By decoding the VIN, you can confirm that the details match the vehicle's actual specifications and history.

Maintenance and Repairs:

Decoding the VIN provides crucial information about technical specifications, including engine type, transmission, and other key components. This information is invaluable when performing maintenance or seeking repairs, ensuring the use of correct parts and procedures.

Recall and Safety Checks:

A Chrysler VIN decoder helps identify any open recalls associated with the vehicle. This is essential for both safety and compliance with manufacturer-recommended repairs.

Resale and Purchase Transparency:

When selling a Chrysler vehicle, having a decoded VIN readily available adds transparency to the transaction. It enables you to provide accurate information to potential buyers, enhancing the vehicle's resale value. For buyers, decoding the VIN ensures that they are making an informed purchase based on accurate details.

Preventing Fraud:

For buyers, a Chrysler VIN decoder is an essential tool for preventing fraud. It enables them to confirm that the VIN matches the information provided by the seller, ensuring a transparent and trustworthy transaction.

Historical Insights:

Enthusiasts interested in the history of a Chrysler vehicle can use the VIN to gain insights into its manufacturing details, origin, and production sequence. This information contributes to a richer understanding of the vehicle's story.
Ultimately, a Chrysler VIN decoder serves as an essential resource for owners, buyers, and enthusiasts alike. It equips individuals with precise and all-encompassing details concerning a vehicle's characteristics and historical background. Regardless of whether your goal is to uphold your Chrysler's condition, make a purchase, or gain insights into its origin, a VIN decoder furnishes the essential information required to facilitate well-informed choices.
Unveiling the Hidden Information: What Can You Learn from a Chrysler VIN?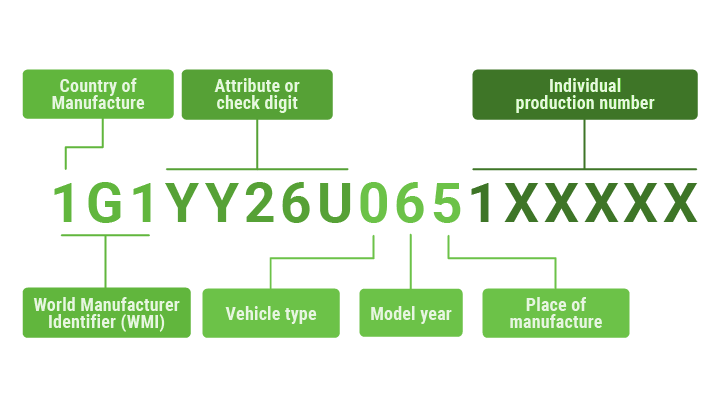 A Chrysler VIN (Vehicle Identification Number) is a unique alphanumeric code composed of 17 characters that serves as a distinctive identifier for a Chrysler vehicle. Each character in the VIN holds specific information about the vehicle's attributes, specifications, manufacturing details, and history. Let's break down what each character in a Chrysler VIN signifies:
World Manufacturer Identifier (WMI):

The first three characters represent the World Manufacturer Identifier. The first character indicates the country of origin, the second character identifies the manufacturer (in this case, Chrysler), and the third character provides additional information about the vehicle.

Vehicle Descriptor Section (VDS):

Characters four through eight provide information about the vehicle's attributes, model, engine type, and series. These characters can include codes representing the model line, body style, engine, and other specific features of the vehicle.

Check Digit:

The ninth character is a unique check digit that's calculated using a specific formula based on the other VIN characters. Its purpose is to detect any errors or inconsistencies in the VIN, ensuring its accuracy.

Model Year:

The tenth character indicates the model year of the Chrysler vehicle. It can be a letter or a number that corresponds to a specific year. For instance, "J" might represent a 2018 model year.

Assembly Plant:

The eleventh character signifies the manufacturing plant where the Chrysler vehicle was assembled. This character is often a single letter or number code associated with a specific plant location.

Production Sequence Number:

The last six characters provide a unique production sequence number for the specific Chrysler vehicle. This number distinguishes one vehicle from others produced at the same plant during the same model year.
By using a Chrysler VIN decoder, you can convert the VIN into a readable format that provides specific information about the vehicle, such as its model, engine type, transmission, and other specifications. This information is particularly useful when buying a used Chrysler vehicle, as it helps verify the vehicle's authenticity and specifications.
What Information is included in a VinCheckPro Free Chrysler VIN Decoder Vehicle Report?
A comprehensive VinCheckPro.com free Chrysler VIN decoder vehicle report typically includes a variety of information about the vehicle's specifications and history. While the specifics can vary depending on the available information reported, typical VinCheckPro.com typically includes the following data:
Basic Vehicle Information

: This includes details like the make, model, year, trim level, and body style of the vehicle.

Engine and Transmission Details

: Information about the engine type, displacement, and transmission type.

Safety and Recall Information

: Any outstanding recalls associated with the vehicle and information about its safety features.

Title Information

: Title status, including whether the vehicle has a clean title, salvage title, or other title brands.

Odometer Reading

: The reported odometer reading at various points in time to check for discrepancies or potential odometer fraud.

Accident History

: Information about reported accidents, collisions, or damage, along with severity if available.

Ownership History

: Number of previous owners, lease history, and usage (e.g., personal, fleet, rental).

Theft and Salvage Records

: Information about theft recovery, salvage auctions, or if the vehicle has been reported as stolen.

 Warranty Information: Shows the current state or condition of the warranty coverage of the vehicle. It indicates whether the vehicle's warranty is active, expired, voided, or if there have been any changes to the warranty coverage due to repairs, modifications, or other factors.

Vehicle Usage

: Whether the vehicle has been reported as used for personal, commercial, or other purposes.

Vehicle Specifications

: Details about the vehicle's specifications, such as dimensions, weight, and fuel efficiency.

Market Value and Price Analysis

: An estimate of the vehicle's current market value based on factors like age, condition, and location.

VIN Verification

: Verification that the VIN provided matches the information in the report.

Service and Maintenance Records

: Reported service and maintenance history, if available.

Images and Vehicle History

: Sometimes, images of the vehicle and a summary of its history might be included.