Welcome to VinCheckPro.com's ATV VIN Check page, your go-to source for getting accurate and comprehensive information about any ATV in the United States. With our easy-to-use platform, you can quickly obtain a detailed report on the history of any ATV by simply entering its unique 17-digit Vehicle Identification Number (VIN).
What is an ATV VIN Check?
An ATV VIN check is an essential tool for anyone looking to purchase a used ATV. It provides valuable information about an ATV car report, including its current and previous owners, accident history, and any outstanding liens. By running an ATV VIN check, you can ensure that you are making an informed purchase and avoid any potential scams or frauds. Whether you are a seasoned rider or a first-time buyer, using an ATV VIN check is a smart move that can save you time, money, and headaches in the long run.
An ATV, also known as an all-terrain vehicle, is a vehicle designed for off-road use, capable of traversing a variety of terrain types. It typically features four wheels, low-pressure tires, and a handlebar for steering. ATVs are popular for recreational use as well as for various work-related applications such as farming, forestry, and search and rescue. Some models are also street-legal and can be driven on regular roads. As of 2017 data, there are about 10.5 million ATV vehicles in America. 
Things to consider before buying a used ATV
All-Terrain Vehicles (ATVs) can be a lot of fun and can serve a variety of purposes, from work to recreation, but making an informed decision is critical for both safety and peace of mind. 
Purpose:

Determine the purpose of the ATV vehicle. Is it for recreation or work-related tasks? The purpose will affect the type and size of the ATV.
Size:

The size of the ATV is crucial as it determines its performance and functionality. Make sure to choose an ATV that can accommodate the rider's weight and can handle the terrain where it will be used.
Engine:

Consider the engine size and power output of the ATV. A bigger engine provides more power and can handle tougher terrain or heavier loads.
Budget:

Determine the budget for the ATV purchase. ATVs can vary in price based on size, features, and quality, so it's important to decide on a budget beforehand.
Safety Features:

Look for an ATV with safety features such as roll cages, safety belts, and headlights. The safety features are essential for both the driver's and ATV's protection.
Brand and model:

Do research on brands and models of ATVs before buying. Look for reviews and ratings to make an informed decision.
Terrain:

Consider the terrain where the ATV will be used. Some ATVs can handle rough terrain, while others are better suited for smooth terrain.
Maintenance:

ATVs require regular maintenance to keep them in good condition. Check the availability of parts and the cost of repairs before purchasing.
Legal requirements:

Each state has laws and regulations regarding ATV usage. Be sure to check the legal requirements before purchasing an ATV.
Training:

Make sure to have the necessary training and knowledge before using an ATV. Many dealerships offer training programs, or it's advisable to take a safety course to learn how to operate an ATV safely.
Never Take Chances: Get a Complete ATV Car Report with ATV VIN Check
Before purchasing an ATV vehicle, it is important to conduct a thorough inspection to identify any probable issues or damages. It is advisable to acquire a detailed ATV vehicle history report by conducting an ATV VIN check. People who plan to buy a vehicle may find it beneficial to use tools such as the National Motor Vehicle Title Information System (NMVTIS) or private car report providers like Carfax or Autocheck. These tools can help with performing an ATV free VIN check and producing a comprehensive ATV vehicle history report.
An ATV vehicle history report by ATV VIN Check may show the following details:
Vehicle specifications

– refers to the most basic of features, dimensions, performance, and appearance of a car. 

Accident history

– data on past accidents or damages the vehicle has sustained previously

Title information

– shows whether a car possesses a clean title record or if it was branded as salvage, reconstruction, total loss, or others in the past. 

Ownership history

– details on past ownership and the length of time they possessed the car as well as the dates and frequency of ownership transfer.

Mileage history

– the distance tracked by the odometer since a vehicle was first driven; it can be utilized to identify any manipulation of a vehicle's mileage.

Vehicle use

– checks if a car has past personal or professional purposes, and whether it has ever served as a rental, taxi, or transport car.

Manufacturer recalls

– displays recall data instigated by the car manufacturer, along with a brief description of a defect and proposed fixes. 

Theft record

– shows any status that the vehicle has been marked as stolen or if it is connected to a theft recovery effort. 

Liens and finance history

– shows if a car has outstanding debts or liens that are not yet paid off, or if it has been confiscated for non-payment of loans.

Others

– information regarding currently active and expired warranties as well as car insurance policies.
Required Documents: Verify the appropriate legal documents, including the title, registration, and bill of sale, before purchasing a used ATV to avoid or minimize any legal, financial, or safety complications you may encounter. Unless sold "as is," the seller is responsible for resolving any outstanding debts or legal obligations related to the vehicle before transferring ownership to the buyer.
Lemon Law Protection: The ATV is protected by various lemon laws, both at the state and federal levels. The law's purpose is to safeguard consumers who purchase or lease cars, trucks, or vans that come with a written warranty from the manufacturer. However, the law does not extend protection to nonconformities caused by vehicle abuse, negligence, or any alterations or modifications that were not authorized.
Breaking Down the ATV VIN
The ATV VIN generally follows the same 17-character format as a standard vehicle VIN. It provides specific information about the ATV, including the manufacturer, model, year, and production number.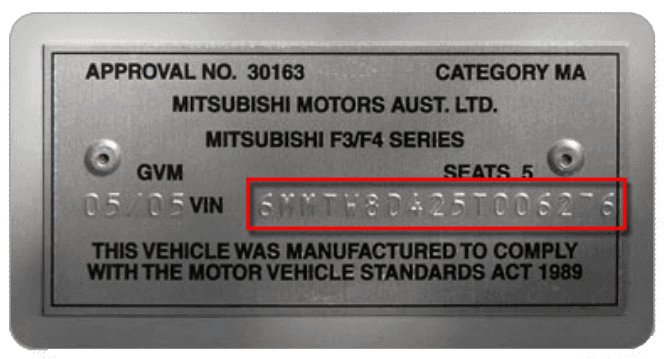 Below is a general breakdown of an ATV VIN used for free VIN check:
Country of Origin:

The first character of a VIN indicates the country where the vehicle was manufactured. For ATVs, this may start with a J (Japan), a 5 (United States), or other codes depending on the country.

Manufacturer:

The second and third characters represent the code of the manufacturer who produced the ATV.

Vehicle Type:

The fourth to eighth characters represent the vehicle type, model, and engine specifications.

Check Digit:

The ninth character is a check digit that ensures the validity of the VIN.

Model Year:

The tenth character represents the model year of the ATV. It can be a letter, number, or combination of both.

Plant Location:

The eleventh character represents the location where the ATV was manufactured.

Production Number:

The last six digits represent the production number of the ATV.
How to Check ATV VIN Using an ATV VIN Decoder
Doing an ATV VIN check is as easy as ABC. Just follow these simple steps to get a free ATV vehicle history report for your choice of ATV. 
1st: Decode the VIN. Use an online ATV VIN decoder tool to decode the VIN. Enter the VIN into the tool and it will provide a breakdown of what each digit or letter represents.
2nd: Interpret the information. Once you have decoded the ATV VIN, you will be able to interpret the information provided. This can include information about the ATV's make and model, engine type, transmission type, and more.
3rd: Verify the information. Next, verify the information to ensure that it matches the ATV you are looking at. If there are any discrepancies, you may want to investigate further to ensure that you have accurate information.
Where to Check ATV VIN Numbers
Here are the common locations of ATV VIN numbers in Honda, Yamaha, Arctic Cat, E-ton, Kawasaki, Can-Am, Polaris, and Suzuki:
On the frame, usually on the left or right front lower side of the ATV

On the engine block

On the steering column

On the manufacturer's sticker or plate, usually found on the rear frame or near the handlebars

Inside the glove box or storage compartment

On the bill of sale or title paperwork
Rarely, you can also find specific ATV VINs in these locations:
On the cylinder head

Under the seat or rear fender

Behind the front bumper or skid plate

Inside the frame rails, near the steering head

On the axle or transmission housing

Behind the front grille or air intake

On the fuel tank or petcock

On the exhaust pipe or muffler

Inside the air box or filter housing

In the electrical harness or wiring loom
Popular ATV makes and model
Honda ATVs
Honda has a wide range of ATV models, from the youth-oriented TRX90X to the high-performance TRX450R.

The Honda ATVs have a reputation for reliability and durability.

The FourTrax Rancher line is one of Honda's most popular ATV models.

Honda ATVs also have advanced features, such as electronic power steering (EPS) and independent rear suspension (IRS).
Yamaha ATVs
Yamaha's ATV line includes models such as the Raptor, Grizzly, Kodiak, and Viking.

Yamaha's ATVs are known for their high-performance engines, with some models reaching up to 686cc.

The Raptor line is Yamaha's sport ATV lineup, while the Grizzly and Kodiak models are geared toward utility tasks.

Yamaha also offers several youth models, such as the YFZ50 and YFZ450R SE.
Arctic Cat ATVs
Arctic Cat offers a range of ATVs from 90cc to 1000cc, including popular models like the Alterra, Wildcat, and Prowler.

Arctic Cat's ATVs are designed for both work and play, with features such as front and rear racks for hauling cargo, as well as sportier features like independent suspension and aggressive tires for off-roading.

The Alterra line is Arctic Cat's utility ATV lineup, while the Wildcat and Prowler models are designed for more extreme terrain.
E-ton ATVs
E-ton is a lesser-known ATV brand that offers a range of youth and adult models.

The E-ton Viper 90 is a popular youth model, while the Vector 250 is a larger ATV designed for adults.

E-ton ATVs have a reputation for being reliable and affordable.
Kawasaki ATVs
Kawasaki offers a range of ATV models, from the KFX90 youth model to the powerful Brute Force 750.

Kawasaki's ATVs are known for their rugged design and high-performance engines.

The Brute Force lineup includes several models, including the 750 4x4i EPS and the 300.

Kawasaki also offers a range of utility models, such as the Mule Pro-FXR and the Teryx4.
Can-Am ATVs
Can-Am offers a range of ATV models, including the youth-oriented DS 90 and the high-performance Renegade X xc 1000R.

Can-Am's ATVs are known for their advanced technologies, such as dynamic power steering (DPS) and the Visco-Lok QE auto-locking front differential.

The Outlander lineup includes several models, including the Outlander MAX 6×6 DPS and the Outlander X mr 1000R.
Polaris ATVs
Polaris offers a wide range of ATV models, including the popular Sportsman and Ranger lines.

Polaris's ATVs are known for their advanced features, such as active descent control (ADC) and electronic throttle control (ETC).

The Sportsman lineup is one of Polaris's most popular ATV models, with several models available, including the Sportsman XP 1000 and the Sportsman 450 H.O.

Polaris also offers a range of youth models, such as the Outlaw 110 and the Phoenix 200.
Suzuki ATVs
Suzuki offers a range of ATV models, from the youth-oriented QuadSport Z50 to the powerful KingQuad 750.

Suzuki's ATVs are known for their durability and high-performance engines.

The KingQuad lineup includes several models, including the KingQuad 750AXi Power Steering SE+ and the KingQuad 500AXi Power Steering.

lSuzuki also offers a range of utility models, such as the Ozark 250 and the QuadRunner 500.
Other Resources for ATV Owners
Automotive review sites are excellent supplements for ATV vehicle history reports as they provide in-depth reviews of various vehicles, including ATVs. These sites can be helpful for ATV buyers and owners alike, as they provide valuable information on the performance, features, and overall quality of different models. By reading reviews and comparisons on these sites, buyers can make informed decisions about which ATV is right for them, and owners can learn about maintenance tips and upgrades to enhance their vehicle's performance. Additionally, automotive review sites often include user reviews and ratings, giving buyers and owners a better sense of real-world experiences with different vehicles. Edmunds, Car and Driver, and Motor Trend are good examples of automotive review sites. 
Vehicle safety rating websites. If you aren't sure what to make of an ATV vehicle history report, vehicle safety rating websites can be your go-to. They provide important data for ATV buyers and owners to ensure that they are purchasing or using a safe and reliable vehicle. These websites typically provide comprehensive safety ratings and reviews for ATV models based on a range of factors including crash test results, safety features, and overall performance. By accessing these sites, ATV buyers and owners can make informed decisions on car buying, as well as take necessary steps to ensure proper maintenance and use to prevent accidents and injuries. NHTSA and IIHS are good examples of vehicle safety rating sites.
Vehicle market value websites are great companion guides to ATV VIN checks. These websites provide a comprehensive overview of the current market value of ATVs. These websites collect data from dealerships, auctions, and private sales to provide a fair and accurate market value for a particular vehicle. This information can be incredibly useful for ATV buyers and owners, as it can help them in making informed decisions about selling or buying their ATVs. By knowing the current market value, buyers can negotiate better deals with sellers, and owners can determine fair prices for their ATVs when selling them. Additionally, market value websites can provide insights into the overall trends in the industry, helping buyers and owners stay up-to-date on the latest developments and make more informed decisions. Two good examples of automotive market value sites are Kelley Blue Book and NADA Guides.
ATV crash report. An ATV crash report is a record of accidents involving all-terrain vehicles. It can help ATV buyers and owners by providing valuable information on the safety of a particular model or brand, highlighting any potential risks or hazards associated with the vehicle, and potentially preventing accidents or injuries. This can also help to caution you about possible broken cars that may end up near a local dealer lot. By reviewing and understanding the contents of an ATV crash report, buyers and owners can make informed decisions when purchasing or operating an ATV, and take appropriate safety measures to protect themselves and others. As per the 2019 FARS report, there were 35,766 fatal motor vehicle crashes and 38,824 deaths in the US in 2020. 
ATV crime report. ATV crime report contains valuable information about thefts and other crimes related to ATVs in their area. This car report helps people make informed decisions about where to buy, store and use their ATV. By understanding the risks of ATV theft and other crimes, users can take steps to protect their property and reduce the likelihood of becoming a victim. Additionally, the report can be used to identify areas where law enforcement may need to increase patrols or undertake other measures to enhance security for ATVs. Overall, the ATV crime report is an essential resource for anyone looking to purchase or own an ATV. According to the FBI's 2019 US Crime Report, there were an estimated 721,885 thefts of motor vehicles nationwide in 2019.
ATV natural disasters. Through the years, flood-damaged cars were purported to number in the millions. Close to a million of these were title washed and resold to unsuspecting buyers, according to a 2013 The Zebra article. You wanna be sure that you won't be buying one of these broken cars. The best way to do this is to run an ATV VIN lookup and reviewing the corresponding ATV vehicle history report. 
Run an ATV VIN Check to generate a free ATV vehicle history report.