For some people, knowing the number of original owners their used car had is very important.  For others, this detail is nothing more than an interesting historical fact.  If you are purchasing a used car, it is always a good idea to check out a vehicle history report.  A VIN number lookup will tell you how many owners have sat behind the wheel before you, but this should not be the only consideration that you have when buying a used car.
Number of Owners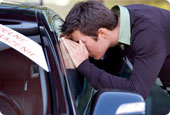 What is in a number? In the used car world, single owner cars are often considered to be worth more than those that have had multiple owners. However, for cars with more than one owner, the most important consideration is how well the vehicle was cared for. If a car has multiple owners, it is important to review the records under each owner, ascertaining if regular maintenance was performed.
Age Is a Factor
When you are buying a previously owned car, you do have to consider the age of the vehicle. Common sense will tell you that the older the car, the more likely it will be to have had multiple previous owners. Conversely, you would expect a relatively new car to only have one previous owner. When reading over a car history report, it is important to understand the vehicle's age to paint a clear picture of the importance of owner histories.
VIN Number Lookup Is Not an End All
While getting a vehicle history report is an important part of used car shopping, it may not reveal the entire history of a used car. Keep in mind that a VIN number lookup will only show information that was actually reported. For example:
Number of previous owners – A vehicle history report will show you how many owners the car had.  However, the number of owners does not indicate the number of drivers.  For example, a single-owner used car could have been owned by an older woman who just took it out on Saturdays to do her weekly run to the grocery store.  Or, the single-owner car could have been owned by a family with several teenagers, all of whom were given access to the car and permitted to drive it back and forth to school, weekend jobs, and sporting events.
Accidents are not always reported – It's critical to analyze the vehicle history report for any previous accidents, but a clean report may not be completely accurate. Many minor fender benders go unreported, yet these same seemingly minor accidents can cause hidden car frame damage that could lead to major repairs.
Maintenance is not always reported either – If a mechanic works on the car and reports it, then it may show up on a vehicle history report.  However, not all mechanics will report the work that they did.  If a vehicle history report seems sparse in maintenance facts, then you can ask the owner for maintenance receipts and auto logs. 
When you purchase a used car, utilizing a VIN number lookup is critical. These reports can reveal tremendous information about a car, starting with how many previous owners and even ending with a lemon report.