Buying a used car can be an interesting and terrifying process. Whether you purchase your car from the ad out of the paper or from your neighborhood car dealer, there is no way to completely know the story of who else has sat behind the steering wheel.
Why You Might Want to Trace Ownership
There are many reasons why someone might want to perform a free VIN check to see how many other owners have called the car their own.  The most common is to assess the value of the car – was that vehicle really owned by just that one kindly old man, or is someone spinning a tale hoping to drive the price up?  Is that low mileage real, or have they rolled the odometer?  Is that last repair still under warranty, and will that warranty transfer?  Being able to trace down previous ownership will make answering these sorts of questions a lot easier.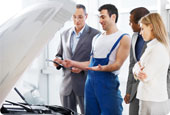 Car restorers and classic car enthusiasts often want to do a VIN number check as part of finding out the history of the car. By finding out who else drove the car, they can discover its history. Was it a family vehicle or the prize possession of a teenager who just got their license? Did it drive around town doing family errands or take cross-country road trips?
In rare cases, you might even find out that the car was owned by someone famous, was used during filming of a classic movie, or other interesting facts.
For those who hope to sell or trade their classic car down the line, the more history they have, particularly if it is something that can be proven, the higher cost they can ask for it.
How a VIN check works
The VIN, or vehicle identification number, is a unique number given to each and every car on the road.  The number can be used for a variety of things, such as discovering where the car was manufactured or the original color of the exterior.  More importantly, VINs are used as a way of identifying cars during transactions, such as buying and selling.  Doing a free carfax check can show you the history of the title, how many times it has changed hands, how much it was sold for, whether or not it has ever been in an accident, and more.
Be aware of VIN check limitations
It is important to keep in mind that there are some limitations to doing a VIN check. Due to privacy laws, you may not be able to get any information on previous owners, and therefore may not be able to find out much more than what accidents the car has been in and how many owners it has had.
For older vehicles, records may be inaccurate or incomplete, depending on how long they have been on the road. And even if you can find all of the information on a vehicle, it could be that the original owner has moved, passed away, or changed names since then.
Regardless of the reasons, being able to find out who the previous owners of your used car were can end up being helpful down the road. Knowing how to find out the information using a VIN check will make tracking down this data easier.