A vehicle history report is an invaluable tool for researching a used car before making a purchase. A cheap vehicle history report offers one of the best values for the money because it provides important information about a car's sale and accident history, service records and whether the car has ever suffered flood or other types of damage. Finding the best source for a vehicle history report is the first step in ensuring the information you obtain is accurate and as complete as possible.
NMVTIS Offers Vehicle Title Information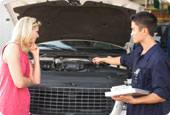 Before choosing a company for your low-cost or free VIN Check report, it is a good idea to become familiar with the National Motor Vehicle Title Information System or NMVTIS. This federal database provides vehicle title information from participating state motor vehicle registries, which encompasses around 89 percent of all the DMV data for the United States. The NMVTIS also includes information from salvage companies, insurance companies, junk yards and auto recyclers.
A number of companies in the U.S. now partner with NMVTIS to provide interested individuals with access to vehicle history reports. With access to data in the NMVTIS database, companies can include information about a vehicle title, as well as potential problems with the vehicle like past accidents or salvage history. With a broad database to draw from, companies that access NMVTIS information have plenty of important facts to share with prospective buyers or sellers of used vehicles.
Additional Facts Available
In addition to basic vehicle title information available through the NMVTIS database, companies that provide a cheap vehicle history report may include additional information on their records. This might include comparisons of a particular vehicle with similar vehicles manufactured at the same time. It could provide information about possible flood or frame damage to the car. Some will even incorporate a full service record on the car to let a potential buyer know if the car was well-maintained prior to this sale.
The specific type of information included in a free vehicle history report may vary from company to company, so it may be helpful to shop around to find the most comprehensive report for your specific needs. In addition, the charge for a history report may vary slightly between companies, depending on the amount of information provided and the number of reports ordered.
Options in Ordering a Cheap Vehicle History Report
There are a number of options for ordering a cheap vehicle history report today. Most companies allow you to choose between a single report, if you have your heart set on a specific vehicle, and multiple reports if you are just starting out on the car shopping process. Multiple reports tend to be the less expensive option, although even single reports can generally be purchased for just a few dollars.
Beware a company that promises to give you a free vehicle history report, since most legitimate companies charge at least a small fee for using their services. Free reports may not be as complete or accurate as those from reputable companies. A better option is to choose a cheap vehicle history report from a credible company that has received positive reviews from buyers and sellers alike.
Online Options Offer Information in a Flash
A cheap vehicle history report can usually be requested with little information beyond the car's vehicle identification number or VIN. This unique number quickly identifies a specific vehicle and opens the door for a wealth of information on the vehicle title and history. VINs are sometimes provided in advertisements for the car, or by simply phoning the seller and asking for the number.
You can now order a vehicle history report online from most companies, making the process of researching a vehicle fast, easy and convenient. Order your report from the comfort of home at any time of the day or night. Reports can be obtained nearly instantaneously, allowing buyers to research vehicles in a flash before heading off for negotiations with the seller.
Low on cost and high on convenience, these vehicle history reports offer peace of mind and all the information you need to come out ahead in sales negotiations for your new vehicle. With plenty of valuable information now included on these records, there is no reason to skip this vital step when you are in the market for a "new" used vehicle for you or your family.