Whether you get a basic vehicle history report free or purchase a more comprehensive report from a reputable company, you have to learn what all that information means. These reports can give you a wealth of information about a car you are interested in buying, but if you don't know what all those facts and figures mean, they don't do you a whole lot of good. If you want to make the most of a DMV vehicle history report, or a free VIN lookup report from another source, check our tips for dissecting these treasure chests of auto info.
Verifying the Make and Model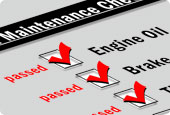 It may seem like a no-brainer, but there is a very good reason why the make and model of a car are included when you check vehicle history. This information allows you to be sure the car you are checking is the same car you are interested in buying. By comparing the make and model on the report to the real thing, you protect yourself from unscrupulous seller trying to pass off another vehicle's report for the car he is offering you.
Title History on DMV Vehicle History Report
A free DMV vehicle history report will usually give you a title history, as well as any number of reports you pay money for. This history tells you how many owners a vehicle has had, which could offer valuable input on how well the car has been cared for. In addition, an unusually large number of owners could indicate a car has been passed around due to an irritating sound, smell or problem no mechanic was able to fix.
Odometer Check
Another important piece of information that protects a potential buyer from odometer fraud. While this information may not come up every time you check vehicle history reports, when it does, it will alert you to a possible odometer rollback on a vehicle. Odometer rollbacks are illegal in all states, because they artificially jack up the value of a vehicle and may hide information about wear and tear from a potential buyer.
Other History
There are other facts that might come up, whether you pull a carfax free report or grab one from an authorized company. For example, you might learn a car's airbags have been deployed, which could indicate the car was in an accident. You may discover that supposedly cherry car you are salivating over has actually done time as a taxi or rental vehicle. Be sure to peruse all the information in this section carefully, to ensure you don't get stuck with a car that has not been properly fixed or cared for.
It is relatively easy to check a vehicle history today, with plenty of online companies offering this service. By learning how to read one of these reports, you can collect much of the information you need to make a smart, savvy decision on the purchase of your next used vehicle.