Are you considering buying a Tesla? Before you make any decisions, it's important to discover the power of a Tesla VIN check. By conducting a VIN check, you can access valuable information about the vehicle's history and make an informed purchase.
With a Tesla vehicle history report, you can uncover crucial details such as previous accidents, title issues, mileage discrepancies, and more. It's like having a crystal ball that reveals the hidden secrets of the car you're interested in.
But why pay for a VIN check when you can get it for free? VinCheckPro.com offers a reliable and convenient platform where you can perform a free VIN check on any Tesla. Don't take any chances when it comes to your dream car – arm yourself with knowledge and peace of mind with a Tesla VIN check today.
What is a Tesla VIN Check and Vehicle History Report?
A Tesla VIN check is a process of verifying the authenticity and history of a Tesla vehicle using its Vehicle Identification Number (VIN). The VIN is a unique 17-digit code that is assigned to a vehicle for identification purposes. By running a VIN check, potential buyers or current owners of a Tesla vehicle can access details about the car's manufacturing date, original equipment, previous ownership history, accident reports, theft record, and more.
This information is crucial in determining the actual value of a vehicle, and also helps to identify any potential risks or issues associated with its performance or safety. The good news is that there are various websites that provide free VIN checks in Europe, enabling Tesla buyers to verify the legitimacy of their purchase. Tesla VIN checks can be conducted online through various platforms, and are often recommended for anyone considering buying or selling a used Tesla vehicle.
VinCheckPro.com offers a free VIN check service that provides a complete overview of a vehicle's information based on its VIN. Here are information you can expect when you run a Tesla VIN check:
Basic Vehicle Information

:

Make, model, and year of the Tesla vehicle.

Manufacturing country and plant where the vehicle was assembled.

Body style (e.g., sedan, SUV, coupe) and drivetrain type.

Title and Ownership Information

:

Title status: Whether the Tesla has a clean title, is branded as salvage, rebuilt, or has other title brands that might indicate previous issues.

Ownership history: The number of previous owners and the duration of ownership for each owner.

Accident History

:

Details about reported accidents, including the date, location, severity, and extent of damage.

Information about any repairs or insurance claims related to accidents.

Recall Information

:

Identification of open recalls issued by Tesla that pertain to the specific vehicle. This helps you stay informed about safety-related concerns.

Odometer Readings

:

Recorded odometer readings over time, helping to detect potential odometer rollback or inconsistencies.

Service and Maintenance Records

:

Reports of routine maintenance, repairs, and service performed on the Tesla vehicle.

Information about the maintenance schedule and adherence to it.

Vehicle Warranty Status:

Current state of the warranty coverage on a Tesla vehicle. Tesla offers various warranties for its vehicles, and understanding the warranty status is crucial for owners, buyers, and sellers.

Market Value Estimate

:

An estimated market value for the Tesla vehicle based on its history, specifications, and current market trends.

Verification of Authenticity

:

Confirmation that the VIN corresponds to the correct Tesla vehicle, ensuring it has not been reported as stolen or involved in fraudulent activities.

Additional Vehicle Attributes

:

Information about the vehicle's specifications, including engine type, transmission, factory-installed options, and more.
A comprehensive Tesla VIN check and vehicle history report provide you with valuable insights that can help you make informed decisions when buying or selling a used Tesla. This information helps you understand the vehicle's condition, identify potential issues, and ensure that you're getting a fair deal. It's essential to use reputable sources for your vehicle history report to ensure the accuracy and reliability of the information you receive.
What is a VIN and Where Can I Find it?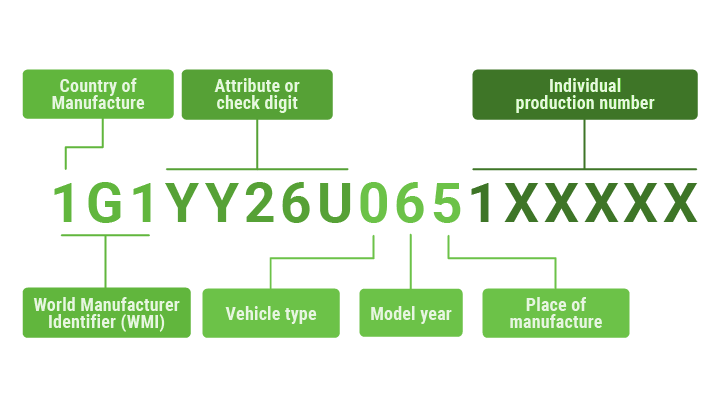 A VIN (Vehicle Identification Number) is a unique alphanumeric code assigned to each motor vehicle during its manufacturing process. It serves as a universal identifier for the vehicle, providing crucial information about its make, model, year, manufacturing details, and more. The VIN is used for various purposes, including vehicle registration, tracking ownership, obtaining vehicle history reports, and ensuring accurate specifications.
The VIN typically consists of 17 characters, and each digit or letter in the VIN has a specific meaning. Here's a breakdown of what each digit represents:
World Manufacturer Identifier (WMI)

: The first three characters indicate the manufacturer and country of origin. These characters identify the vehicle's brand and where it was built.

Vehicle Descriptor Section (VDS)

: Characters 4 to 8 provide information about the vehicle's attributes, such as the model, body type, engine type, and sometimes specific features.

Check Digit

: The ninth character is a mathematical calculation based on the other characters in the VIN. It's used to verify the accuracy of the VIN and prevent errors.

Model Year

: The tenth character represents the model year of the vehicle. It can be a letter or a number and corresponds to a specific year.

Assembly Plant

: The eleventh character indicates the manufacturing plant where the vehicle was assembled.

Serial Number

: The remaining characters (positions 12 through 17) make up the unique serial number for the individual vehicle. This serial number helps differentiate the vehicle from other vehicles of the same make and model produced in the same year and plant.
The VIN is typically located in several places on the vehicle, making it easily accessible for identification and record-keeping. Common locations for the VIN include:
Dashboard

: Visible through the windshield on the driver's side, near the base of the windshield.

Driver's Side Door Jamb

: The VIN may be found on a label on the driver's side door frame (when the door is open).

Engine Compartment

: It's often stamped on a metal plate affixed to the engine block or other parts of the engine bay.

Vehicle Title and Registration

: The VIN is printed on the vehicle's title and is used for registration purposes.

Manufacturer's Plate

: Some vehicles have a metal plate or sticker on the vehicle's body that displays the VIN.
The VIN is a critical tool for vehicle identification and tracking, and it plays a significant role in various aspects of the automotive industry. 
Tesla VIN check tools and resources: Where to find them
If you're a proud owner of a Tesla, it's important to keep track of your vehicle's VIN number. The VIN number is a unique identifier that provides information about the car's manufacturer, year of production, model, and more. Luckily, there are many VIN check tools and resources available online to help you do just that.
One useful resource is the official Tesla website, which offers a VIN decoder tool that provides information about your car's production date, battery type, and more. Independent websites like Carfax and AutoCheck also offer VIN check services that can provide a detailed vehicle history report, including accident and repair records. Investing a little time in checking your Tesla's VIN can help you better understand your vehicle and make informed decisions about its maintenance and upkeep.
Elevate your Tesla experience with our complimentary VIN check service! Whether you're a Tesla owner, potential buyer, or considering selling, our comprehensive report provides crucial insights. Discover essential details like accident history, title records, recalls, and more. Drive with confidence and make informed decisions. Don't wait – claim your free Tesla VIN check now and unlock the power of knowledge for a smoother Tesla journey!